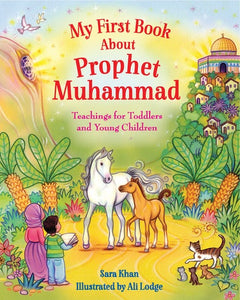 Book Information(本の情報):
Book Title

MY FIRST BOOK ABOUT PROPHET MUHAMMAD

Written By


Sara Khan

Publisher
 

Kube Publishing Ltd

ISBN Code

ISBN13: 9780860377023
ISBN10: 0860377024

Written Language
English
First Publish Date
06-01-2020
Available Translation
 Recommendation(おすすめ):
Comments

Inside this board book toddlers and young children will find out about the Prophet Muhammad's amazing character and unshakeable belief in Allah.

Stunning illustrations, full of color, bring the pages to life and the carefully written text is simple, easy to understand, and suitable to be read aloud. It also features some facts about the Prophet Muhammad and common questions children might ask, such as: what did the Prophet Muhammad believe before he received the revelation.

Commented By


Is best for Children?
Yes
Is best for Adult?


Is best for Non-Muslim?

Yes
** Please contact us if you are looking for a book but are not currently available. Our contact details are HERE . Also you can live chat
 with us.  

** 本をお探しで、現在ご利用いただけない場合は、お問い合わせください。
We love to hear from you and may Allah accept all of our prayers and grant JANNAH!