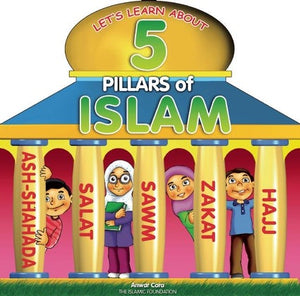 Book Information(本の情報):
Book Title

5 PILLARS OF ISLAM

Written By


Anwar Cara

Publisher
 

Kube Publishing Ltd

ISBN Code

ISBN13: 9780860375746
ISBN10: 0860375749

Written Language
English
First Publish Date

30-11-2015

Available Translation
 Recommendation(おすすめ):
| | |
| --- | --- |
| Comments | Written in simple, rhyming language and accompanied with bold, colorful illustrations, this book is perfect to introduce young children to the most important acts in Islam: the Five Pillars. Each spread features one of the Five Pillars: believing in Allah and His Messenger, praying, fasting, giving charity, and performing Hajj. |
| Commented By | |
| Is best for Children? | Yes |
| Is best for Adult? | |
| Is best for Non-Muslim? | Yes |
** Please contact us if you are looking for a book but are not currently available. Our contact details are HERE . Also you can live chat
 with us.  

** 本をお探しで、現在ご利用いただけない場合は、お問い合わせください。
We love to hear from you and may Allah accept all of our prayers and grant JANNAH!