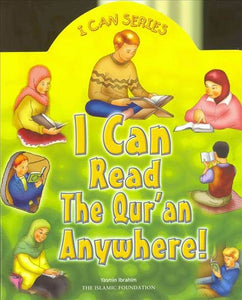 Book Information(本の情報):
Book Title

I CAN READ THE QUR'AN (ALMOST) ANYWHERE

Written By


Yasmin Ibrahim

Publisher
Precious Bees
ISBN Code

ISBN13: 9780860374091
ISBN10: 0860374092

Written Language
English
First Publish Date

31-12-2012

Available Translation
 Recommendation(おすすめ):
Comments

This is one of the I Can Series of five books that introduces and illustrates some basic yet important concepts and terms for young Muslim children. These are explained with reference to their everyday life and in the settings with which children are familiar. In simple, easy-to-understand language the series presents Islam as a living reality to be experienced in daily life. It answers many questions about Islam as faith which arise in the young, curious minds.

For ages 3-5 years and the young at heart.

How do we learn to love the Koran, the Book of Allah? By keeping it with us and learning and reading it whenever and wherever we can.

Commented By


Is best for Children?
Yes
Is best for Adult?


Is best for Non-Muslim?

Yes
** Please contact us if you are looking for a book but are not currently available. Our contact details are HERE . Also you can live chat
 with us.  

** 本をお探しで、現在ご利用いただけない場合は、お問い合わせください。
We love to hear from you and may Allah accept all of our prayers and grant JANNAH!