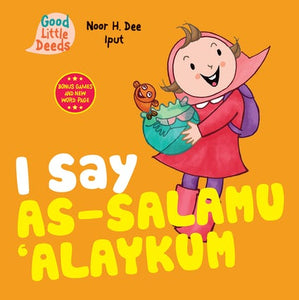 Book Information(本の情報):
Book Title

I SAY AS-SALAMU 'ALAYKUM

Written By


Noor H. Dee

Publisher
 

Kube Publishing Ltd

ISBN Code

ISBN13: 9780860376484
ISBN10: 0860376486

Written Language
English
First Publish Date

24-06-2019

Available Translation
 Recommendation(おすすめ):
| | |
| --- | --- |
| Comments | Nabil and Noura are going to the park. Along the way Nabil greets the gardener and park ranger. Now Noura wants to say, 'AS-SALAMU 'ALAYKUM!' Who, or what, will she salam? |
| Commented By | |
| Is best for Children? | Yes |
| Is best for Adult? | |
| Is best for Non-Muslim? | Yes |
** Please contact us if you are looking for a book but are not currently available. Our contact details are HERE . Also you can live chat
 with us.  

** 本をお探しで、現在ご利用いただけない場合は、お問い合わせください。
We love to hear from you and may Allah accept all of our prayers and grant JANNAH!