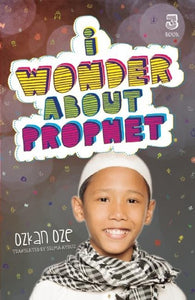 Book Information(本の情報):
Book Title

I WONDER ABOUT THE PROPHET

Written By


Ozkan Oze

Publisher

Kube Publishing Ltd

ISBN Code

ISBN13: 9780860375081
ISBN10: 0860375080

Written Language
English
First Publish Date
25-04-2016
Available Translation
 Recommendation(おすすめ):
Comments

 Have you ever wondered what the Prophet Muhammad believed before he became a prophet, why he is so important, or why he is praised so often? You might wonder how he treated animals and children or if he performed miracles. All of these questions, and many more, are explored inside.

Ozkan Oze was born in Turkey in 1974. While at high school, he started working at Zafer Magazine's editorial office in Istanbul and discovered his love of literature and books. Since then he has gone on to become the editor of Zafer Publications Group and continually writes. He is married with two children.

Commented By


Is best for Children?


Is best for Adult?


Is best for Non-Muslim?



** Please contact us if you are looking for a book but are not currently available. Our contact details are HERE . Also you can live chat
 with us.  

** 本をお探しで、現在ご利用いただけない場合は、お問い合わせください。
We love to hear from you and may Allah accept all of our prayers and grant JANNAH!