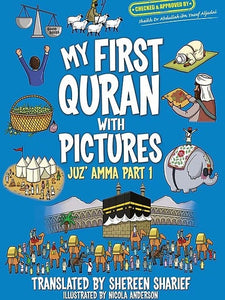 Book Information(本の情報):
| | |
| --- | --- |
| Book Title | MY FIRST QURAN WITH PICTURES |
| Written By | Shereen Sharief |
| Publisher | Kube Publishing Ltd |
| ISBN Code | ISBN13: 9781999918309 |
| Written Language | English |
| First Publish Date | 05-06-2019 |
| Available Translation | |
 Recommendation(おすすめ):
Comments

Children often memories Surah after Surah of the Quran without knowing its basic meanings. Even as parents, we may find it difficult to explain it to them.


With the help of this picture book, your children will be able to read Juzz Amma in Arabic and instantly know the basic meaning of the verses through engaging illustrations.

It will help your children visualize the simple meanings of the Ayah. This will make the Tafsir and the explanations of the Verses easier for them to grasp.

This bright and colorful book will also assist memorization of the Quran, making it so much more fun and enjoyable for them.

Commented By
Faith Books
Is best for Children?
Yes
Is best for Adult?
Yes
Is best for Non-Muslim?

Yes
** Please contact us if you are looking for a book but are not currently available. Our contact details are HERE . Also you can live chat
 with us.  

** 本をお探しで、現在ご利用いただけない場合は、お問い合わせください。
We love to hear from you and may Allah accept all of our prayers and grant JANNAH!