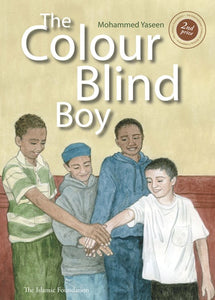 Book Information(本の情報):
Book Title

THE COLOUR BLIND BOY

Written By


Mohammed Yaseen

Publisher
 

Kube Publishing Ltd

ISBN Code

ISBN13: 9780860373841
ISBN10: 0860373843

Written Language
English
First Publish Date
16-10-2017
Available Translation
 Recommendation(おすすめ):
Comments

 

The boy at the back of the classroom was the only one not staring at Abdullah. Who was he, Abdullah thought to himself? Abdullah knew that the boy had some sort of secret that made him different from the others, something that made him stand out. But what was it?

Carefully addressing the issues of racism, bullying, and color-blindness, this book is both engaging and insightful. It highlights how the color of one's skin should be infinitely less important than their actions in the eyes of others—and how difficult school can be for children that don't quite fit in.
Commented By


Is best for Children?


Is best for Adult?


Is best for Non-Muslim?



** Please contact us if you are looking for a book but are not currently available. Our contact details are HERE . Also you can live chat
 with us.  

** 本をお探しで、現在ご利用いただけない場合は、お問い合わせください。
We love to hear from you and may Allah accept all of our prayers and grant JANNAH!