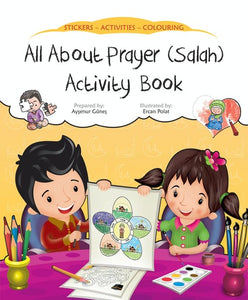 Book Information(本の情報):
Book Title

ALL ABOUT PRAYER (SALAH) ACTIVITY BOOK

Written By


Aysenur Gunes

Publisher

The Islamic Foundation

ISBN Code

ISBN13: 9780860376101
ISBN10: 0860376109

Written Language
English
First Publish Date

02-11-2015

Available Translation
 Recommendation(おすすめ):
Comments

Find out about the Muslim prayer with this fun sticker activity book. It features dot-to-dot drawings, coloring fun, puzzles to solve, and over sixty stickers to stick.

Introduces children to the way Muslims prepare for prayer and the main parts involved in performing it, including calling adhan, facing the Kaaba, and reciting words from the Qur'an.

Commented By


Is best for Children?
Yes
Is best for Adult?


Is best for Non-Muslim?

Yes
** Please contact us if you are looking for a book but are not currently available. Our contact details are HERE . Also you can live chat
 with us.  

** 本をお探しで、現在ご利用いただけない場合は、お問い合わせください。
We love to hear from you and may Allah accept all of our prayers and grant JANNAH!