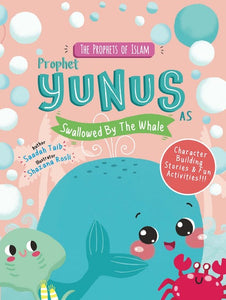 Book Information(本の情報):
Book Title

PROPHET YUNUS AND THE WHALE ACTIVITY BOOK

Written By


Saadah Taib

Publisher
 

Kube Publishing Ltd

ISBN Code

ISBN13: 9780860377184
ISBN10: 0860377180

Written Language
English
First Publish Date
13-07-2020
Available Translation
 Recommendation(おすすめ):
Comments

A charming activity book, bursting with joyful animals and colorful backgrounds, that introduces children to the Prophet Yunus, and one particular story during his life.

Full of activities including crosswords, puzzles, mazes and colouring, this book is a wonderful way to teach children about the Prophet Yunus's encounter with the whale through interaction and play.

Commented By


Is best for Children?


Is best for Adult?


Is best for Non-Muslim?



** Please contact us if you are looking for a book but are not currently available. Our contact details are HERE . Also you can live chat
 with us.  

** 本をお探しで、現在ご利用いただけない場合は、お問い合わせください。
We love to hear from you and may Allah accept all of our prayers and grant JANNAH!