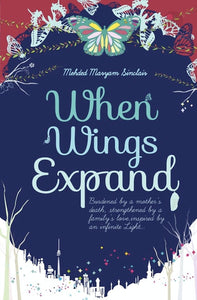 Book Information(本の情報):
Book Title

WHEN WINGS EXPAND

Written By


Mehded Maryam Sinclair

Publisher

Kube Publishing Ltd

ISBN Code

ISBN13: 9780860374992
ISBN10: 0860374998

Written Language
English
First Publish Date
22-02-2013
Available Translation
 Recommendation(おすすめ):
Comments

 Winner of the Unpublished Muslim Writer's Award 2011.

She wrapped her arms around me and said, "Nur! I know. I don't want to go. But all I can do is keep trusting in Allah. Nur, I will always be with you! My love and advice will always be with you to guide you in the right direction." She patted my heart. "They are forever sealed inside this little place."

Writing on the pages of her journal, Nur, a teenage girl in Canada, charts the onset and advance of her mother's cancer. Nur watches her mother's body begin to shrink and her mood begin to darken. And when family and friends begin to encroach, Nur must face the prospect of her mother's looming death.

Nur bears the crushing loss and finds her adolescent life more demanding and complex. But with the legacy of her mother's love, her family's support, and the guidance of her faith, she manages to overcome the searing pain and use her newfound strength to bring joy to the lives of others, showing them that after death wings can expand.

Mehded Maryam Sinclair is a professional storyteller with twenty-five years of experience. Her career as a touring and teaching artist began with Vermont Council. She lived in Turkey for ten years, teaching language and storytelling, and now resides in Amman, Jordan. Mehded is the author of two picture books, Miraculous Happenings in the Year of the Elephant and A Trust of Treasures (both published by Kube Publishing, Ltd).

Commented By


Is best for Children?


Is best for Adult?


Is best for Non-Muslim?



** Please contact us if you are looking for a book but are not currently available. Our contact details are HERE . Also you can live chat
 with us.  

** 本をお探しで、現在ご利用いただけない場合は、お問い合わせください。
We love to hear from you and may Allah accept all of our prayers and grant JANNAH!